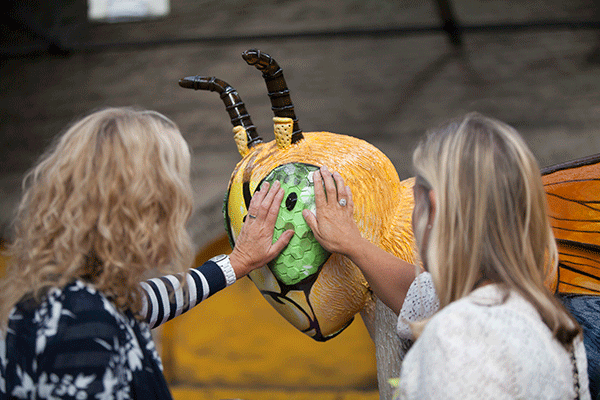 It's been fantastic to see the city and visitors embrace Bee in the City.
This summer's art trail of Bees has attracted thousands of people to Manchester to explore its incredible architectural, industrial and cultural heritage.
When the trail finishes on Sunday, the big Bees created by teams of residents and professional artists as part of the Community Programme will not be included in the charity auction.
After joining the colony of other big Bees at the Farewell Weekend, these Bees will stay in Manchester for everyone to enjoy; many back in their trail locations or nearby. Funded by the communities themselves, or by a variety of grants, this inspiring collection of Bees is a stunning showcase of ideas, topics and issues that are particularly meaningful to the groups involved and their members.
Community Programme Bees:
Hallé St Bee-ter's A Chorus of Industry
The Bee of Hope, Community and Respect
All 131 little Bees decorated by pupils as part of Bee in the City's inspiring Learning Programme, will go back to the schools, colleges and youth groups that created them as a lasting legacy.
The big Bees will meet again for one last time at the HSBC UK National Cycling Centre for the Farewell Weekend on 12-14 October. This will be the last chance for Bee spotters to see all the big Bees before the sculptures – minus the Bees listed above – go into an auction on 17 October to raise much needed funds for the Lord Mayor of Manchester's We Love MCR Charity. Many of these big Bees were sponsored by Manchester businesses who have been integral to the event and are looking forward to seeing the Bees help the charity beneficiary.
The We Love MCR Charity supports communities and young people across Manchester,  helping them to reach their full potential. Every penny raised stays in Manchester. The money raised through Bee in the City will support the We Love MCR Stronger Communities Fund, which aims to bring communities together, breakdown barriers and help to create a better future for the city.
After helping raise hundreds of thousands of pounds at auction for We Love MCR Charity, the big Bees sold at auction will make their way with their new owners who will decide their forever home.
Note: The We Love MCR Charity (The Lord Mayor of Manchester's Charity Appeal Trust) should not be confused with the similarly named We Love Manchester Emergency Fund, which was set up following the 22 May 2017 attack to help support victims.