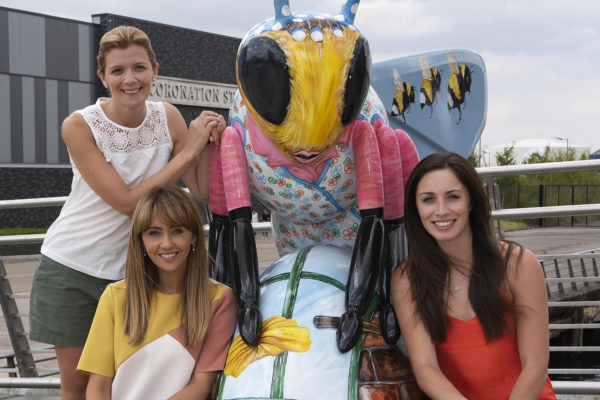 With online bidding now open, we take a closer look at some of the Bees set to make the city buzz with bidders digging deep to help leave a lasting legacy for the city.
The online Auction is now live at www.beeinthecitymcrauction.co.uk. Start placing your bids now and continue bidding online during the live auction on Wednesday 17 October.
Designs inspired by Manchester's musical heritage include ROCK 'N' ROLL Bee designed with Oasis frontman Liam Gallagher, a Hac 'BEE' enda Bee celebrating the city's legendary nightclub, and Bee Here Now featuring bands such as Joy Division and Happy Mondays. Zingy lemon-covered bee I Wanna Bee Adored is signed by Gary Mounfield a.k.a Mani from The Stone Roses.
Hilda Bugden is expected to be a hit with Coronation Street fans. As well as enjoying her time on the art trail, the Bee has also been pictured with some of today's stars of the cobbles.
It's Manchester United vs. Manchester City as footballing tributes to famous clubs Bee United and Mike Summer-Bee go wing-to-wing at the auction. Which one will be victorious and fetch the most at auction in this contest with the auctioneer's gavel?
Bidders may be star struck by Bee Live in MCR: music A-listers The Rolling Stones, Ed Sheeran, Taylor Swift, the Foo Fighters, Billy Joel, the Gallagher brothers, Gary Barlow, The Courteeners and Blossoms have all added their signatures to this Bee.
The STEM Bee features 80 signatures from scientists, researchers, engineers and teachers working in STEM (Science, Technology, Engineering, and Mathematics) from around the Greater Manchester area – including Kostya Novoselov, who was awarded the Nobel Prize for Physics in 2010 for his achievements with graphene. It also contains portraits of mathematician Alan Turing, physicist Ernest Rutherford and Marie Stopes, a pioneer in the field of family planning.
Keen cyclists will be getting auction fever over I'd Rather Bee Cycling, a unique piece of art signed by Team GB Olympic champions, Laura Kenny and Elinor Barker. The signatures take pride of place on this Bee's jersey.
Small in stature but making just as big an impact, there are four little Bees also hoping to raise lots of money for the Lord Mayor of Manchester's We Love MCR Charity. Crown Jewels and Dazzle Bee are adorned with mosaic and gem-like stones. The Drip-bee has a fluid paint effect setting it apart.
The little Bee Not too Shab-bee by Thomas Wolksi is anticipated to be a hit amongst his growing cult following of celebrity clients. It's making a special appearance at The Lowry Hotel ahead of the auction.
Manchester mural artist and illustrator Hammo painted City in the Bee, which features a stylised Manchester skyline and portraits of Manchester residents. He also brought Benny the Bee to life, a cheeky character who featured on limited edition tea towels sold in the Bee in the City shop.
Manchester street art duo Nomad Clan in Manchester created The Federation Bee which carries their trademark brush strokes and striking design. Internationally renowned graffiti artist kELzO created 'Bee Lieve' in Manchester.
For more information on the Bees available to buy at auction, please see the Auction Catalogue.