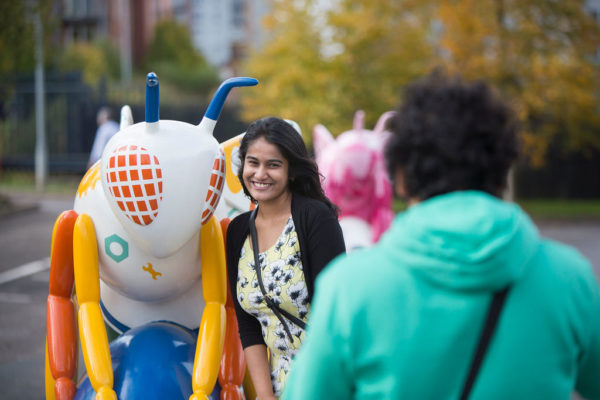 The HSBC UK Cycling Centre was buzzing at the weekend as 15,000 Bee seekers visited the Bee in the City Farewell Weekend to see all big Bees ahead of the Charity Auction.
The colony of Bees were displayed in the centre's grounds and inside the Velodrome, the training track for Team GB's Olympic and Paralympic cyclists. Ticket holders took the opportunity to 'collect' Bees to complete their trail hunt before the sculptures are auctioned off on Wednesday to raise funds for the Lord Mayor of Manchester's We Love MCR Charity.
Bee seekers took selfies with their best Bee pal, met members of the colony they hadn't seen over the summer, and took a final look at the bee-autiful designs. They also enjoyed an art fair where they met some of the artists who painted the Bees, face painting, live music, Pif-Paf's Bee Cart, Egg People's Waggle Dancers, and hoops of hula hooping fun with Well Pharmacy and Rockahula!
Emma Rawson wins surprise raffle of little blank Bee
Many people dressed up in honour of the occasion and many of the bee-st dressed have been captured on social media. On Sunday a surprise raffle took place, giving ticket holders the opportunity to take home a blank little Bee. A very happy Emma Rawson from Gorton, with green ticket number 53, was the lucky winner. Congratulations!
With Mancunian designs inspired by the city's musical heritage, a Corrie homage, footballing tributes to the city's clubs, artwork by renowned Manchester artists, plus high-profile support from Olympic champions, music A-listers, and Nobel Prize winning scientists, the Velodrome is set to be buzzing again on Wednesday as auction fever takes hold.
Bee a bidder at the charity auction on Wednesday
Hosted by auctioneer and TV personality, Charles Hanson, 77 individually designed Bees will be under the spotlight to raise valuable funds for the Lord Mayor of Manchester's We Love MCR Charity.
The money raised at auction will support We Love MCR Charity's Stronger Communities fund, which provides grants of up to £2000 for initiatives that bring communities together to celebrate diversity and build stronger relationships. Find out how to be a bidder at the unmissable auction here.
Forever hives in Manchester 
The Community and Learning Programme Bees painted by local residents, children and young people were not included in the auction. Nearly a quarter of the big Bees from the art trail were funded by and designed by community groups, and these sculptures have gone back to them to be displayed in their neighbourhoods as a lasting legacy. They are joined by the Original Worker Bee, which will remain in Central Library as a permanent exhibition.
All 131 little Bees created by children and young people as part of the Learning Programme have made their way back to the schools and youth groups that designed them.