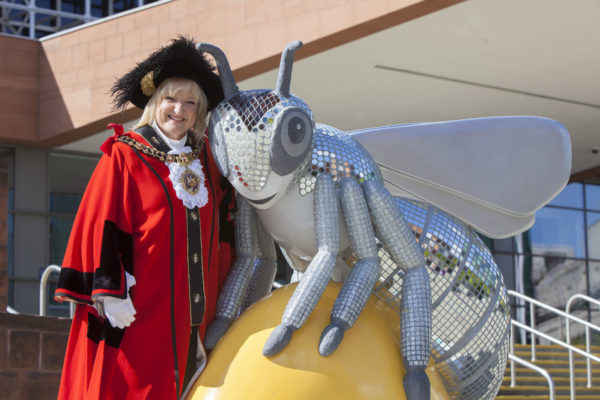 The Lord Mayor of Manchester Councillor June Hitchen tells us about We Love MCR Charity and her experience of Bee in the City.
How do you feel about your We Love MCR Charity being chosen as the charity beneficiary of Bee in the City?
We are delighted that the Lord Mayor of Manchester's We Love MCR Charity has been chosen to benefit from this amazing public art event. It has been brilliant to see so many Manchester businesses, community groups and schools getting involved and supporting the event.

Can you tell us what the Lord Mayor of Manchester's We Love MCR Charity does?
The Lord Mayor of Manchester's Charity Appeal Trust was established in 1997 to support the people of Manchester and has been doing just that ever since. Known as the We Love MCR Charity, we are focussed on supporting young people and promoting stronger communities, helping to build a better future for all of Manchester's residents.

What will the money raised from Bee in the City help We Love MCR Charity to achieve?
The money raised through Bee in the City will support our We Love MCR Stronger Communities grant programme. Community groups across Manchester can apply for funding of up to £2,000 for initiatives that will bring their neighbourhoods together to celebrate diversity and help build stronger relationships in and across those communities.
It will also support our work helping young Mancunians to gain the knowledge, skills and confidence they need to succeed. For many young people the opportunity to increase their self-confidence and broadening their aspirations can have an enormous positive impact on their future.

How can the Stronger Communities grants help people?
The charity has always supported local communities and groups across the city. Our newly focussed grant programme is looking for projects which will bring all of our communities together.
The charity wants to celebrate Manchester's uniqueness, multi-cultural neighbourhoods and youthful energy. Manchester is a diverse city and the charity recognises the importance of building strong relationships in and across these diverse communities. The city has a long history of people coming together and we know the need for such activity is even more critical as the city continues to change and grow.
The charity has recently provided funding to Now-Forever Heritage in Wythenshawe, a community group promoting the area's heritage, and Reach out to the Community in Chorlton which helps those who find themselves homeless or in food poverty.

Tell us about your experience of Bee in the City. Do you have any favourite moments from the trail? 
I have thoroughly enjoyed visiting many of the Bees across the City and seeing so many residents and their families and visitors to Manchester enjoying them too. The array of designs and creativity on display has really impressed me – a huge well done should go to all the artists involved in the project. I particularly enjoyed meeting some of the children and schools involved in the Learning Programme and seeing their creative designs, as well as seeing the Bees while I have been out on engagements across the city.

Bee in the City encouraged people to explore Manchester. Did you discover any hidden gems yourself on the trail?
It has been brilliant to see so many people exploring Manchester's incredible architectural, industrial and cultural heritage. I really enjoyed seeing all the bees, but one that particularly stood out for me was Bling Bee. It's covered in mirrored mosaic tiles and literally reflects the city in its surface. Maybe I was drawn to it because of my own bling – my ceremonial chain of office! I also loved Shellbee, the interactive bee made by the Seashell Trust. The flashing eyes and buzzing sounds were just wonderful!

Would you agree that public art plays an important role in bringing people together?
I definitely agree that public art can inspire and bring people together. Such a broad range of people of all ages and backgrounds and from all areas of the city have enjoyed the Bees. The event has really captured the city's heart and has really encompassed what Manchester is all about, and has even brought visitors in to the city!

Do you think it's important that the Community and Learning Programme Bees are staying in the city?
It is really important that the community and learning Bees are staying here in Manchester for everyone to enjoy. They are a real showcase of ideas, topics and issues that are particularly meaningful to the groups and schools who have been involved.
We are looking forward to seeing all the big Bees coming together again for the Farewell Weekend on 12-14 October. And of course we are looking forward to the Auction on 17 October which will be raising much needed funds for the people of Manchester. I hope many of the Bees new owners will want to share their Bees with the city, for everyone to enjoy.