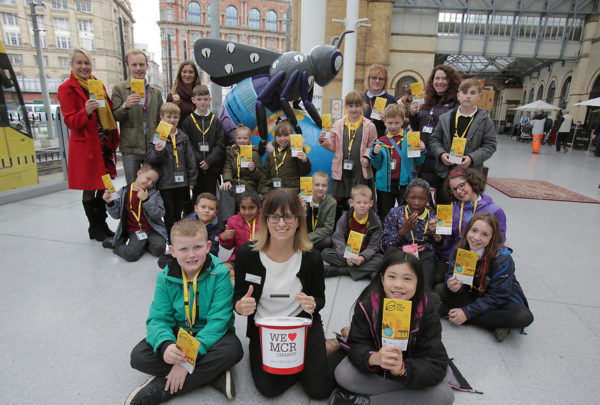 TransPennine Express (TPE) has teamed up with Bee in the City to give students from Gorse Hall Primary School in Stalybridge a fun day out in Manchester.
The train company provided 30 children from the school with free return travel between Manchester and Stalybridge on its newly refurbished trains, giving them a final opportunity to take part in the popular Bee in the City trail before it finishes on 23 September.
As well as checking out the colourful bee sculptures that can be found around the city, the pupils visited Manchester Victoria railway station, home of TPE's very own 'Manchester Movement' Bee. Here, they had the chance to serenade customers along with the 'TPE Voices' choir at an event that helped raise funds for the We Love MCR charity.
Designed by Liverpool based artist Shelley Jayne Illustration, TPE's train-themed Bee depicts Stephenson's Rocket, the first passenger steam locomotive alongside the modern Nova trains that TPE will introduce later this year. Shelley Jayne and colleagues from TPE recently visited Gorse Hall Primary to deliver an art lesson for pupils as part of Bee in the City's learning programme.
Lisa Hewitt, Partnership Marketing Manager for TransPennine Express, said: "I am really proud of TransPennine Express's involvement in Bee in the City and it's been fantastic that we could give this opportunity to the children to come into the city and visit Manchester's bee sculptures. It has been a pleasure to continue our support of Bee in the City and to uphold our belief in helping our local communities. All the kids had a fantastic time and it was brilliant to see the smiles on their faces!''
Kathleen Hughes, Teacher at Gorse Hall Primary School, commented: "The pupils from Gorse Hall School were delighted to have been given complementary travel by TransPennine Express, enabling the children to visit the magnificent Bee in the City sculpture trail. They were particularly excited about seeing the Manchester Movement Bee and how it reflects themes about our local industrial heritage, as this links in so well with our learning curriculum.''
Julie Gaskell, Head of Partnerships for Bee in the City, said "This is a fantastic example of one of our key partners TransPennine Express getting involved and backing Bee in the City; they have gone the extra mile and embraced schools and communities with their bee-themed activities. It was really amazing to see and hear TransPennine Express's choir out entertaining the children today as they finished their Bee tour at Victoria station.''
Each bee unlocks a reward via the Bee in the City app and anyone can visit the 'Manchester Movement' bee before 23 September to enjoy 20 per cent off Advance Purchase tickets.