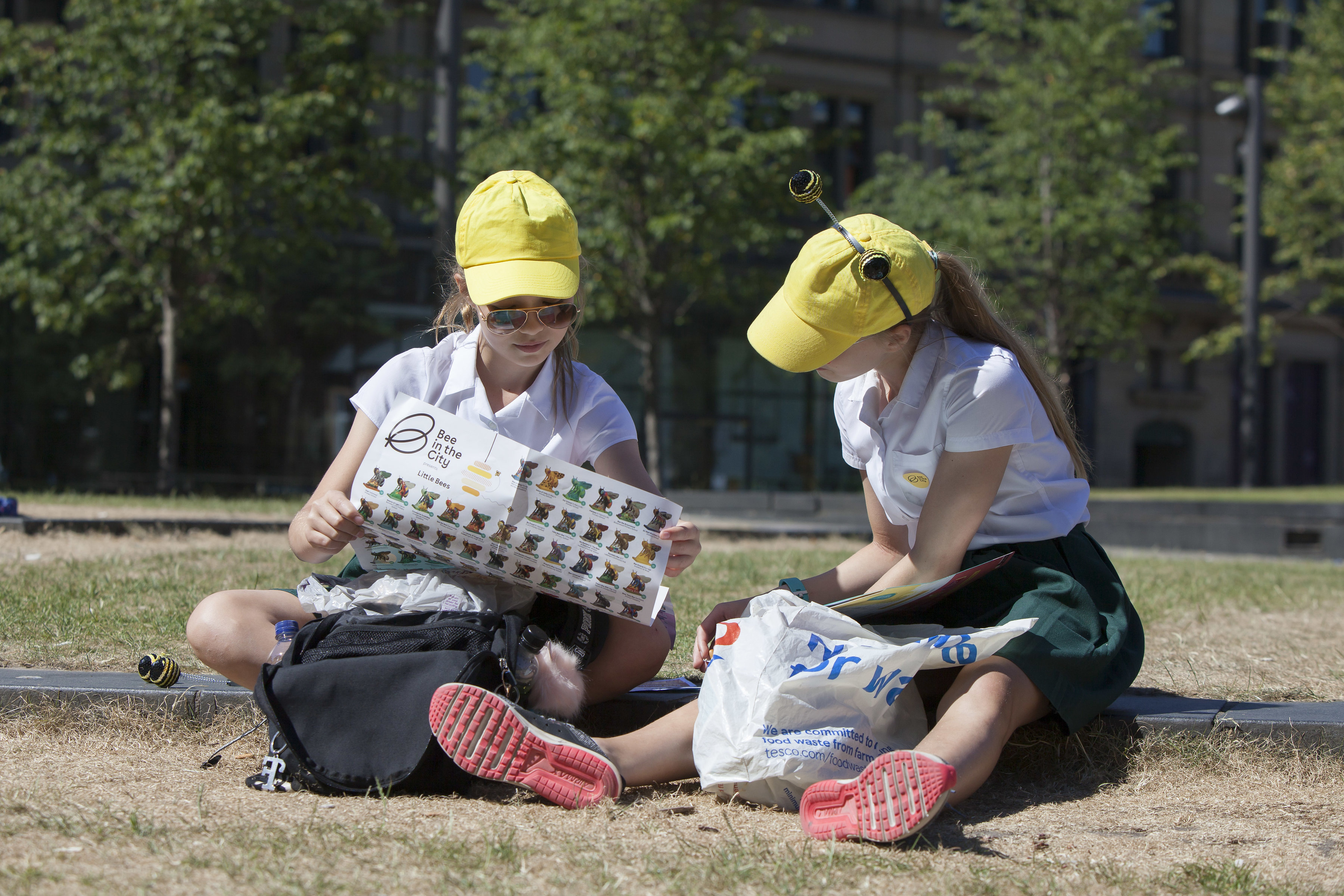 Children and young people from across Greater Manchester took part in the Hive of Creativity Festival this week, the official launch of the Bee in the City Learning Programme.
Pupils from 130 primary, secondary and special schools took part in workshops around Manchester city centre to celebrate their involvement in Bee in the City. They also went on self-guided tours of the Little Bee venues to find their own Bees, which they have decorated and designed in lessons.
Bee-themed workshops took place in high-profile venues during the day. Primary school children learned about Read Manchester's summer Bee a Reader scheme in Central Library, where they were visited by the Lord Mayor of Manchester. Mighty Heart Theatre company led bee-themed craft activities at the Royal Exchange Theatre, whilst tech specialists Cisco and DiceyTech led hands-on tech workshops about bee tracking and 3D printing at Manchester Science Partnership. The National Football Museum ran a bee treasure hunt and quiz, and Executive Member for Schools, Culture and Leisure Councillor Luthfur Rahman paid a visit to show his support.
Special schools got involved at the People's History Museum, making clay bees, a textile bee banner, and clay models of objects and wildlife they see in their gardens. Secondary school pupils became digital journalists for the day at Federation, where Odd Arts hosted a workshop about blogging and social media. The young people then went on a tour of the little Bee sculptures and wrote blog posts about their experience.
Pupils were treated to a special glimpse of some of the large Bee sculptures, which will go on display across Manchester from 23 July. Judith Berrill's 'Doing the Waggle Dance' Bee, sponsored by the Co-operative Bank, was on display at Manchester Science Partnership, and Adoption Counts unveiled Lois Cordelia's 'Bee-You-ti-ful Bee' at the National Football Museum to celebrate their first anniversary.
All 131 Little Bees have gone on public display in city centre venues including Central Library, Manchester Cathedral, the National Football Museum and the Royal Exchange Theatre, before the wider public art trail opens in late July. At the end of the trail each school or group will be able to keep their Bee and put it on permanent display for their young people to enjoy.