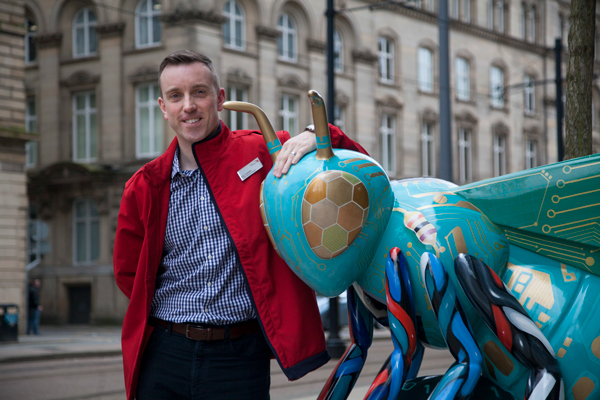 We are delighted to welcome Virgin Trains as Presenting Partner for Bee in the City.
Visitors will be able to follow the free, accessible trail, looking out for the two Virgin Trains Bees, with help from the Bee in the City app, unlocking exciting rewards in the process.
Ady Crymble, Customer Experience Manager for Virgin Trains in Manchester enthused:
"We're incredibly excited to BEE on board. It will bring added life and energy to the city centre, connecting the wider community and showcasing all that is good about Manchester."

"It will provide a massive boost for the local community, putting a smile on peoples' faces whilst raising money for such a worthy cause, and rest assured we will be looking to add a bit of Virgin Trains fun to the celebration this summer."
Virgin Trains employs close to 700 people in Manchester, operating 47 services every day (Monday – Saturday) from Manchester Piccadilly to and from London, carrying over 10 million customers each year, providing a vital link to help strengthen local economies.
Sally-Ann Wilkinson, Director, Wild in Art said:
"We are thrilled to have Virgin Trains on board as a Bee in the City Presenting Partner. Thousands of families will be travelling to Manchester on Virgin Trains from July to September to enjoy what will be one of the biggest and most spectacular public art events ever. Virgin Trains is the perfect partner to take our trail-goers on a creative journey of discovery this summer!"
Image: David Oates Photography