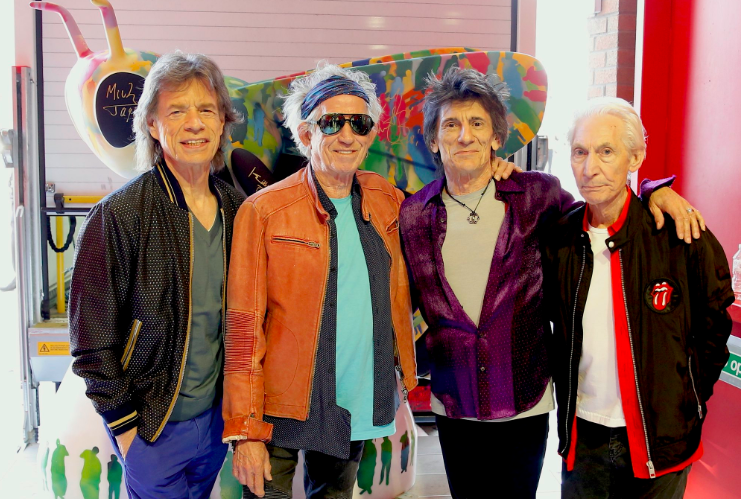 Some of today's biggest-selling music artists have shown their support for Bee in the City. A-listers from the world of rock and pop have signed the Bee sculpture Bee Live in MCR, sponsored by SJM Concerts and designed by artist Amy Coney.
Ed Sheeran was the first artist to sign the Bee on his recent visit to Manchester. He added a cheeky message and bee doodle to the base of the sculpture following his appearance at the Etihad Stadium. He was quickly followed by rock legends The Rolling Stones, who added their signatures following their Manchester gig back in June. Frontman Mick Jagger added his golden signature to one of the Bee's eyes, whilst band members Keith Richards, Charlie Watts and Ronnie Wood signed the legs and body.
10-time Grammy Award winner Taylor Swift signed the Bee's other eye at her Etihad Stadium gig, and fellow Americans Foo Fighters also added their names to their Bee after their recent Manchester appearance. The 'Piano Man' Billy Joel completed the US line-up with his signature.
Manchester icons Liam and Noel Gallagher have both signed the Bee. Liam is due to play to a sold-out Lancashire County Cricket Club crowd, whilst Noel recently headlined the reopening of Manchester Arena before doing his own sold-out show.
Take That frontman Gary Barlow signed the Bee following his recent show at Manchester Apollo. The Courteeners signed the Bee after their sold-out Manchester Arena show, and Mercury Music Prize nominees Blossoms have also added their names after their home town Stockport shows.
You'll be able to get your hands on this piece of music history at the Bee in the City auction on Wednesday 17 October. The Bees are raising money for the Lord Mayor of Manchester's We Love Manchester Charity, which works to improve the lives and life chances of Manchester people.