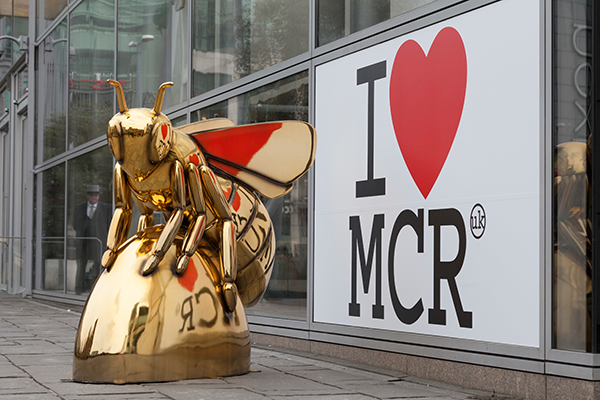 The worker bee is one of the best-known symbols of Manchester. Unique to the city, it has been an iconic part of Manchester's coat of arms since the 1800s. 
Manchester's main symbol, evident throughout the city, was adopted in 1842 by the newly-created council. The Manchester bee is the worker bee, for this is a city that grew on the notion of hard work. An often-repeated phrase is that "everyone in Manchester is as busy as bees."
Manchester was the first city to pioneer a new type of work – mass production. Tens of thousands of workers were striving like bees in the creation of the world's first industrial city. At the same time, Manchester City Council unveiled its Latin motto: Concilio et Labore, "With diligence and hard work", a phrase derived from the Biblical book of Ecclesiasticus.
There are many examples of bees adorning some of Manchester's finest buildings. The city's coat of arms can be seen all over the city, featuring a globe coated with bees. In the Town Hall, the platform outside the Great Hall is called The Bees and is decorated appropriately. At Manchester Art Gallery the most famous and admired painting is Work by Ford Madox Brown.
The bee was important for the Freemasons in the city as a symbol of co-operation, and the belief that societies can only accomplish difficult tasks when they work together. St. John Chrysostom, the 4th century preacher, wrote about the co-operative nature of the bee, explaining that "the bee is more honoured than other animals, not because it labours, but because it labours for others". In the 19th century, Manchester became the home of a new political philosophy – co-operation – and the Co-operative Group headquarters are still in the city.
Following the May 2017 terror attack at Manchester Arena, the bee took on a new resonance and was reinforced as a symbol of civic pride in the city. Visit Manchester and you will see the symbol as street art on buildings, in shops across the city and come across many of its residents bearing their own bee tattoos.
This article was reproduced with kind permission from Ed Glinert, Director of New Manchester Walks and author of the Manchester Encyclopaedia.