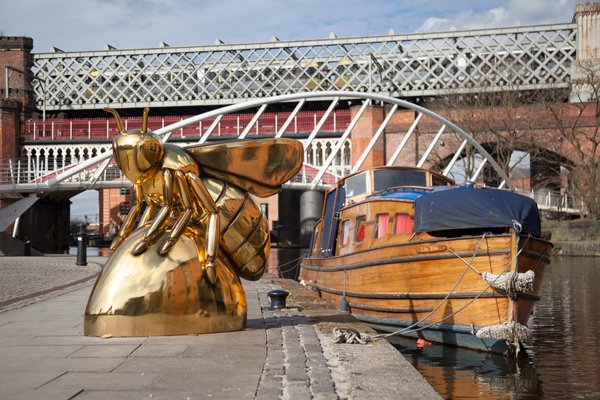 Manchester City Centre was treated to a dazzling preview of this summer's Bee in the City trail, when a 1.8m golden chrome 'Au' bee toured key locations across the city.
The 'Au' bee was spotted in St Peter's Square, Manchester Central, Manchester Science Park and Castlefield, where it stopped off to see the team at Well Pharmacy, who have just been announced as the first headline sponsor for the trail, which will leave a lasting legacy for various local charitable causes through the We Love MCR Charity.
The 'Au' bee gave just a taste of the much anticipated, stunning colony of over eighty super-sized bee sculptures, each with its own unique design, crafted by regional professional and emerging artists which will land in the city for nine weeks in July-September 2018.
Each bee is sponsored by a local business who work with artists, create an amazing array of designs, showcasing a range of styles, techniques and themes that reflect the city, and will be displayed through streets, parks and public spaces across Manchester.
Throughout the summer, families, communities, residents and visitors to Manchester will follow the trail, using the app to 'collect' each bee on the trail, which could include anything and everything from the The Bee Gees to Bee-am Gallagher.
National pharmacy chain, Well, has been confirmed as the project's 'Health and Wellbeing Partner' and is keen to show the public the health benefits connected to the project. Well Pharmacy is working with Bee in the City to include a pedometer and other healthy initiatives to improve well-bee-ing on route.
Wild in Art Director, Sally-Ann Wilkinson, comments
"Our golden 'Au' honey bee caused a huge stir in Manchester City Centre on Friday. The sun came out for the beautiful concept so it really shone, bringing some spring time sparkle, and reflecting just a few of the beautiful locations which will be home to the Bee in the City trail."
Sir Richard Leese, Leader of Manchester City Council, said:
"The bee symbolises the industrious, creative and energetic spirit of Manchester and it's only right therefore that it takes pride of place this summer on our streets."

"The Bee in the City trail promises to be a yet another fantastic event in the city that everyone will want to see and get involved in."
Lynn Krige, CFO at Well, says:
"Bee in the City is such an important and inspiring event to be part of. It celebrates everything that is great about Manchester, encouraging new people to visit the city, and local residents to explore like a tourist. With clear benefits in terms of driving tourism to the region; providing a fun, free, active and educational day out for families; and raising funds for very worthy causes close to our hearts, like We Love Manchester, why wouldn't you want to get involved?"
Bee in the City is produced by Wild in Art in partnership with Manchester City Council, bringing all Manchester's communities together to create the exhibition, and includes an inspirational learning project to give children and young people the chance to take part.
There has been huge demand from sponsors and artists and there are only 25 sponsorship opportunities left so any companies looking to secure one of the final remaining bees should get in touch with Julie Gaskell – julie@wildinart.co.uk
Image: David Oates Photography.