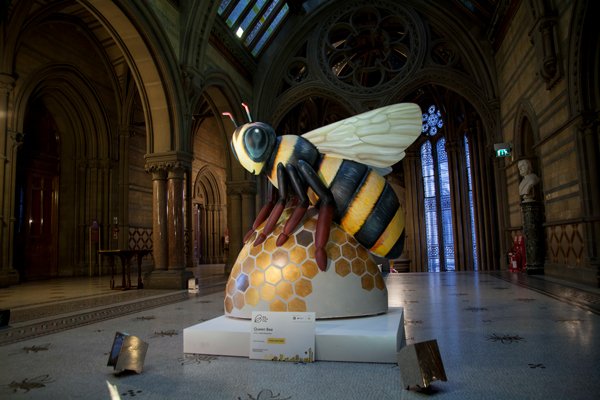 Over eighty giant honey bee sculptures will be winging their way to Manchester in summer 2018, when the city lands one of its biggest ever public art events.
The Bee in the City sculpture trail is inspired by Manchester's celebrated worker bee emblem which has been part of the city's heraldry for over 150 years and is synonymous with Manchester's pioneering and creatively industrious spirit – pollinating progress and renewal.
The Bee in the City trail will be on display throughout the city for nine weeks from July to September 2018 for Mancunians and visitors to enjoy whilst taking in the city's landmarks, cultural gems and areas they may not have explored before. Each super-sized bee sculpture will be decorated with its own unique design, created by regional professional, emerging and amateur artists – making an unforgettably stunning spectacle when the trail goes live. Expect an amazing array of designs showcasing a range of styles, techniques and themes, and some Mancunian visual puns – maybe even Bee-am-Gallagher or The Bee-Gees will make an appearance!
Meanwhile, an inclusive learning programme, imaginatively linked to the curriculum, will give children and young people the chance to explore everything Manchester through creative eyes. Local community groups will also be invited to make their own special contribution to the trail – working with artists to develop and realise their own artistic ideas.
Building on Manchester's international reputation for innovation – and the key strategic role that culture plays in the social and economic life of the city – the City Council is working with Wild in Art to present Bee in the City. Wild in Art is a leading global producer of spectacular and accessible public art trails, with a track record of delivering events that deliver significant economic, artistic, social and charitable impacts for host towns and cities.
Bee in the City will give all Manchester's communities the chance to take part and explore individual and collective creativity. For the local business sector there are opportunities to be the trail's main sponsor, to sponsor individual sculptures and to support the Learning and Community Programmes.
After the trail the bees will be auctioned to raise significant funds for The Lord Mayor of Manchester's charity – We Love MCR Charity to improve the lives and life chances of Manchester people.
Sir Richard Leese, Leader of Manchester City Council, said:
"The bee symbolises the industrious, creative and energetic spirit of Manchester and its people. Bee in the City will build on Manchester's reputation for innovation and the role that culture plays at the heart of city life. This accessible event will encourage Mancunians and visitors alike to explore the Bee trail next summer. It's sure to be a memorable and enjoyable spectacle and the Council is pleased to be backing this special event." 
Sally-Ann Wilkinson, Director of Wild in Art said:
"Bee in the City will become Manchester's buzzword, attracting many new partnerships and collaborations to create a very special event. It promises to connect, inspire, and bring huge benefit and enjoyment to all communities through the power of our city's creativity."
Image: David Oates Photography.