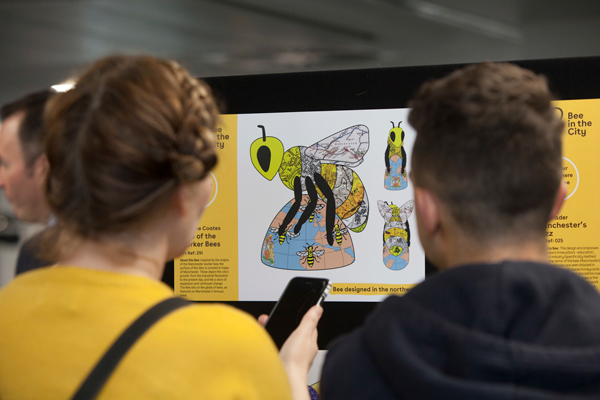 The 180 shortlisted bee designs were unveiled for the first time this week at a private gallery event hosted by etc. venues and our Bee in the City sponsors and partners faced the very difficult task of choosing a design for their own personal bee.
The designs were a real ode to the city and its wide ranging passions with artists and designers submitting work of starkly varying styles encompassing fine art to illustration, graffiti to mosaic with names such as 'USBee', 'Buzzwig van Bee-thoven', 'Hive Talkin' and 'To Bee or not to Bee?' and taking in music, football, iconic figures, pop culture and synonymous television programmes amongst many many more.
The Bee in the City team were on hand to guide sponsors with their selection, giving them information about both the artists and their work.
Sally-Ann Wilkinson Director of Wild in Art, the curators behind the exciting art project, said:
"We have had an overwhelming response from artists who want to get involved with Bee in the City. The level of talent in the designs submitted has been really impressive and we were excited to reveal the shortlist to our sponsors. There was be a real buzz in the air as they made their final decisions."
Were were also delighted to welcome Manchester Gin who excited sponsors with gin sampling and Hey Little Cupcake who brought their very own bees – in cupcake form. A perfect sweet treat.
The bee emblem has been part of Manchester's heraldry for over 150 years and is synonymous with the hard-working people of the city, their social cohesion and sense of community; and the city's pioneering and creatively industrious spirit – pollinating progress and renewal.
There's still time for businesses to sponsor a bee and organisers are urging those who are interested to get in touch as soon as possible to secure their involvement and maximise their return on investment.
To find out more about sponsorship contact Julie Gaskell, Head of Partnerships, at Wild in Art – julie@wildinart.co.uk