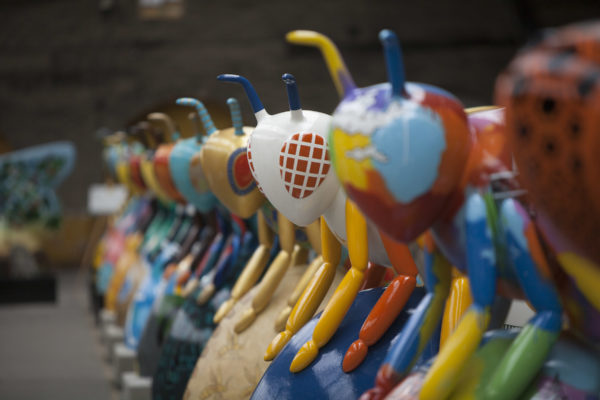 We're proud to announce that the Bee in the City Farewell Weekend is part of this year's Design Manchester festival of creativity and design.
Design Manchester returns for its sixth annual series from 10 – 21 October 2018. It takes in over 40 events city-wide, including the Bee in the City Farewell Weekend, a conference, talks, debate, a film season, workshops, exhibitions, fairs and parties. Find out more here.
The festival's flagship event is D(isrupt)M: Transformation by Design, the day-long DM18 conference taking over the Bridgewater Hall on 19 October 2018, with five event spaces. The programme includes talks, workshops, seminars, interactive installations, Q and A's, craft and making, and speakers including Morag Myerscough, Anthony Burrill, Michael Wolff, Kate Dawkins and Kaye Dunnings (Shangri-La).
The theme for DM18 is DISRUPT, and for festival wide creative project The People are Revolting, Design Manchester has partnered with Berlin-based artist Patrick Thomas and other friends to create iconic stencils/slogans for you to use, to create your own protest and find your voice whatever your cause.
Other key highlights include The Great Debate in partnership with the All-Party Parliamentary Design and Innovation Group, the DM18 Film Season at HOME, The Manchester Print Fair and a RIBA x DM18 lecture with Sir Terry Farrell, workshops with Salford Makers at Islington Mill plus the Farewell Weekend for city-wide art trail Bee in the City.
The extensive exhibition programme includes I Shout for the Fall at Bury Art Museum, Thread Bearing Witness: Alice Kettle at The Whitworth and The Warehouse Project & Design Manchester present… End of Store Street at PLY.
The festival is supported by Manchester City Council, Manchester School of Art (MSA), University of Salford School of Arts and Media, MAG Property and G . F Smith.