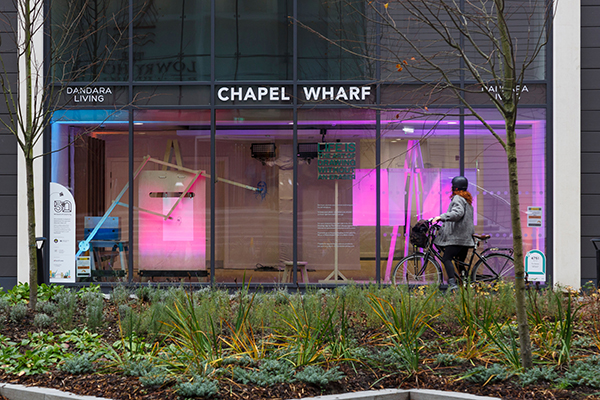 Dandara Living's Chapel Wharf development has been announced as one of the first locations for this year's 50 Windows of Creativity – a new art trail showcasing the work of the city's artists and makers. 
Organisers, Wild in Art, the team behind 2018's Bee in the City event, will transform one of the windows at the Chapel Wharf apartment development into a creative display and will be one of 50 windows and spaces, across Manchester taking part in the event this Autumn. 
Wild in Art has teamed up with Manchester City Council to launch the project and Dandara Living will join Autotrader as one of the event's key partners, with other businesses also stepping forward to support the project.
Juliet Self, Director of Customer Brand and Experience at Dandara Living, said:
"Supporting the communities we work within is very important to us at Chapel Wharf and this project not only celebrates Manchester's creativity, it highlights the integral role that arts and culture plays in the heart of city life."

"We are incredibly excited to be involved, not just as an event partner but also by having our development form part of the creative trail. This is a really exciting project and we can't wait to see more local businesses and creatives get involved and make this a truly landmark event."
Each display will be available to buy from the artists involved, supporting the city's creative sector, with select pieces to be auctioned off and proceeds going to the artists that created them and The Lord Mayor of Manchester Charity Appeal Trust – We Love MCR Charity (registered charity number 1066972).  
Artists and makers taking part include: Wellcome Trust prize winner Benji Reid, Manchester born mixed media landscape artist Sarah Connell and contemporary creative studio Lazerian.
Ben Reed, Head of Creative Development at Wild in Art said,
"We are so pleased to have the backing of Dandara Living as one of our main event partners for 50 Windows of Creativity. This project will transform the city's windows and spaces into an innovative art gallery and we look forward to working with them to develop the display at Chapel Wharf."
Businesses interested in providing support or sponsorship to 50 Windows of Creativity can still get involved by contacting 50windows@wildinart.co.uk