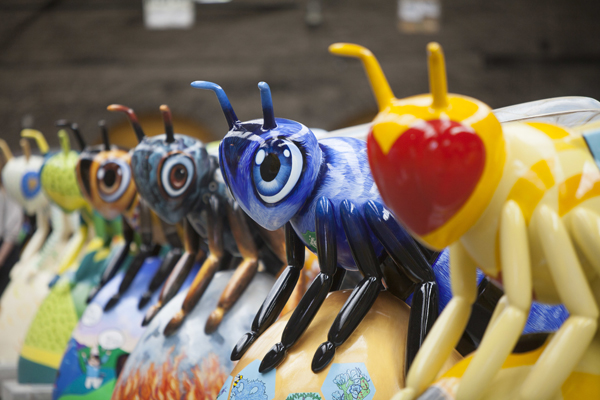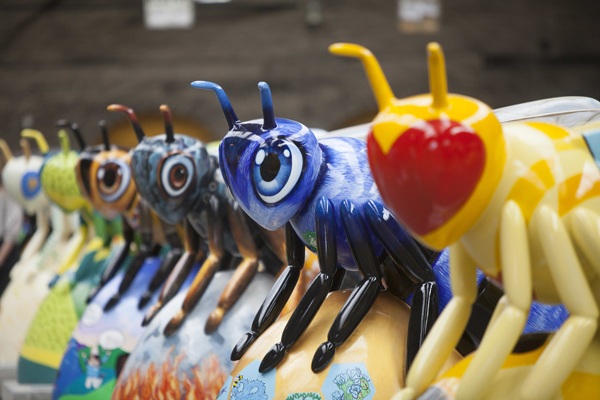 Over one hundred giant worker Bee sculptures, each decorated with its own unique design, will wing their way to Manchester from 23 July to 23 September, when the city lands one of its biggest and most spectacular public art events.
Organised by global public art producer Wild in Art in partnership with Manchester City Council, the Bee in the City trail will live in locations across the city and beyond for nine weeks, providing unmissable, free, family-friendly entertainment for Mancunians and visitors to enjoy, whilst taking in the city's landmarks, cultural gems and areas they may not have explored before.
The Bee in the City Trail was launched at Mayfield Depot, where the amazing array of designs and un-bee-lievable range of styles, techniques and themes, created by professional, emerging and community artists was revealed, before they hit the streets on Monday.
Iconic Mancunian designs include a ROCK 'N' ROLL Bee designed in partnership with Liam Gallagher, a Hac 'BEE' enda Bee celebrating the city's legendary nightclub, a Bee honouring one of Coronation Street's most iconic characters, Hilda Bugden, plus footballing tributes to Manchester's famous clubs Bee United and Mike Summer-Bee.
Music is in Manchester's heart and adding to this strand are the Bee Live in MCR signed by A-listers the Rolling Stones, Ed Sheeran and Taylor Swift, I Wanna Bee Adored signed by the Stone Roses' bassist Gary 'Mani' Mounfield, plus Bee Here Now, a design which celebrates the Manchester music scene as a whole, with portraits ranging from Oasis and Joy Division to Herman's Hermits.
Manchester's creative community has of course contributed to the trail and art fans will be treated to a tribute to Pablo Picasso's stylised work, Pablo Bee-Casso by Jenny Leonard, a hand-drawn Manchester Doodle Bee by Dave Draws, Harpurbee by illustrator Guy Mckinley, and Love by stand out Manchester designer and illustrator, Caroline Dowsett.
Representing the Manchester street art scene are renowned Mancunian artists including Hammo, with his City in the Bee, which depicts a bright pink Manchester skyline to show solidarity and love for the city, and multi-talented artist and designer, Lei-Mai LeMaow, who is set to get taste buds tingling with her stunning Summer Sundae Bee painted in her signature Memphis style.
Manchester's historical identity is represented throughout the trail, with the beautiful Lock Keeper's Bee by Adam Pryce, Industrious by Tim Sutcliffe and Kim Hubball's, My Heart Belongs in this Place, which takes inspiration from Manchester's dynamism, resilience and optimism.
The Bee sculptures will make their homes at some of the city's most famous locations including Albert Square, St Peter's Square, Piccadilly Gardens, Spinningfields, and the Northern Quarter, plus further afield in The Quays, Levenshulme, Harpurhey and many more.
Sally-Ann Wilkinson, Director of Wild in Art, said: "Bee in the City is a celebration of Manchester's diversity, creativity and culture. Each individual Bee represents our fantastic city's many achievements, from its legendary music scene to scientific discoveries and industrial heritage.
Manchester is such a unique city in many ways, and one of those is its ability to bring people together. Different sectors have collaborated to create this fabulous event, including the public and private sectors, schools and community groups. As well as a celebration of creativity, the trail is also a celebration of unity.
It's going to be a summer filled with joy as families and friends take to the streets to complete the trail. I hope that people will remember 2018 as the year that the Bees came to Manchester!"
Councillor Luthfur Rahman, Executive Member Schools, Culture and Leisure, Manchester City Council, comments: "The Council is delighted to support Bee in the City and would like to congratulate everyone who has taken part and contributed to this extraordinary event. Manchester is known the world over for its innovation and creativity and it's great to see this in action through Bee in the City.
"The trail and its associated activities are free of charge, accessible, and provide plenty of opportunities for people to get involved. The event also has an important part to play in helping ensure the health and well-being of all those who follow the trail and is set to give hours of entertainment to thousands of residents and visitors this summer."
Bee in the City is made possible by the dozens of sponsors each supporting and working with their own Bee and its artist. The trail's two Presenting Partners are Well Pharmacy and Virgin Trains.
Lynn Krige, CFO at Well Pharmacy said: "Bee in the City is such an important and inspiring event to be part of, and all in aid of a very worthy cause.  It celebrates everything that is special about Manchester, encouraging new people to visit the city, and local residents to explore like a tourist.  As the main sponsor and Health and Wellbeing Partner, we are encouraging trail-goers to get active and stay well this summer with a variety of healthy initiatives, like our Feel Good Fridays sessions held every Friday at midday near our head office in Castlefield, Manchester. The sessions start Friday 27th July with Disco Yoga so please come along and join in the fun!'
Ady Crymble, Customer Experience Manager for Virgin Trains in Manchester, comments: "We're incredibly excited to BEE on board. The event is sure to bring added life and energy to the city centre and put a smile on people's faces whilst raising money for such a worthy cause. It will provide a massive boost for the local community and Virgin Trains is joining in the fun. So if you're heading down to London from Piccadilly station, look out for our celebratory 'Bee Together' train."
Adding to the magic, further afield will be 131 little Bee sculptures, designed by children from 121 schools and youth groups. They are already on public display in city centre venues including Central Library, Manchester Cathedral, the National Football Museum and The Royal Exchange Theatre. A map of the little Bees can be downloaded from the Bee in the City website.
A Bee in the City app will be available for visitors to track and collect each Bee on the trail, unlocking offers and rewards at many locations. There will also be a trail map of the giant Bees which can be collected from hubs around the city before the trail goes live.
After the trail the big 3-D Bee sculptures will be auctioned to raise funds for The Lord Mayor of Manchester's charity – We Love MCR Charity to improve the lives and life chances of Manchester people.
Key upcoming dates include:
Friday 20 July 9.25am – Bee in the City presenting partner Virgin Trains is unveiling a special train
called Bee Together at a ceremony at Piccadilly train station. The name was chosen by Virgin Trains' staff to reflect the city's solidarity and strength. If you are making a 'flying' visit to London this summer, you might be travelling on this special pendolino.
Monday 23 July – The Bee in the City trail is live around the City
Friday 27 July, 12pm – Well Pharmacy, the official wellbeing partner for Bee in the City, has put together a programme of 30 min activities called Feel Good Fridays (every Friday during the nine weeks of the trail), which kicks off with Disco Yoga at Albert's Shed, Castlefield on the first Friday of the trail.