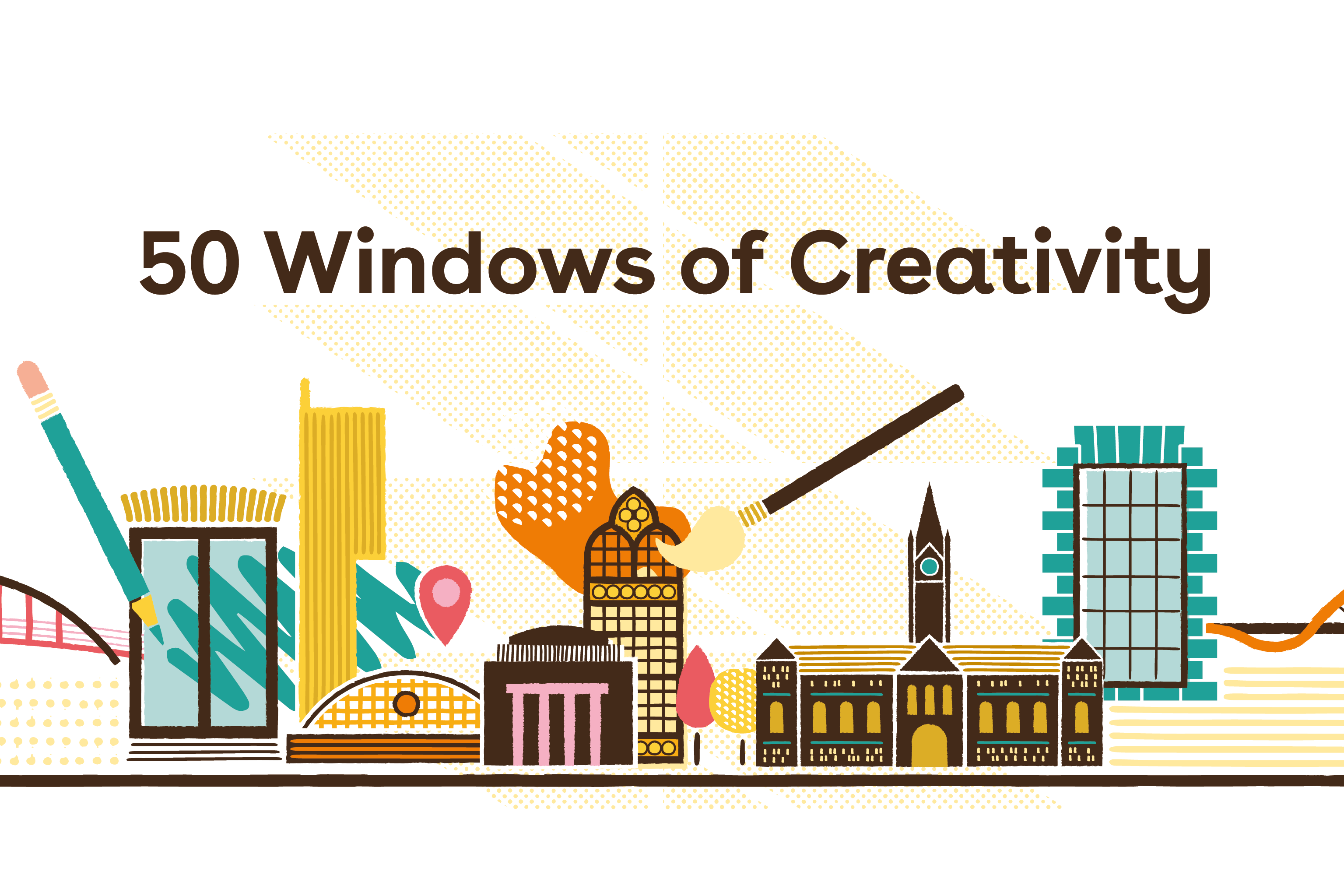 Bee in the City team to produce 50 Windows of Creativity – a new art trail for Manchester
This autumn, the Manchester will host 50 Windows of Creativity, a new art trail showcasing the work of artists and makers through displays in a series of windows, venues, businesses and spaces across the city centre.
The displays will feature multiple art forms from fine art and photography to ceramics, crafts, mosaics and murals and will be curated by well-known and emerging artists and collectives – all with a connection to Greater Manchester. Some displays will also be curated by the city's cultural venues and festivals which haven't been able to take place this year.
Artists and makers taking part include: Wellcome Trust prize winner Benji Reid, Manchester born mixed media landscape artist Sarah Connell and contemporary creative studio Lazerian.
All pieces on display will be available to buy directly from the artist or maker, giving a much needed boost to the city's creative community.
Global public art producers Wild in Art, whose previous work includes the award-winning Bee in the City art trail which took over the city in 2018, will produce the event in partnership with Manchester City Council. Building on Manchester's reputation for innovation and the key strategic role that art and culture plays in the social and economic life of the city, the event will help Mancunians to reconnect with places and spaces in the city centre again and it part of the Council's recovery programme.
Charlie Langhorne, Co-founder and Managing Director of Wild in Art said
"The team is delighted to be back in Manchester working with the city, its businesses and the creative community to produce this event. It is a slight departure to our traditional sculpture trails and it will be our first ever 'window' trail – firmly putting the spotlight on the city's artists and makers."

"One of Manchester's unique qualities is its ability to bring people together and we hope 50 Windows of Creativity will enable Mancunians to rediscover the city in a safe and socially distanced way, while enjoying a new type of outdoor event."
Councillor Luthfur Rahman, executive member for skills, culture and leisure, said:
"Bee in the City was a captivating example of the power that the arts and culture can have for the people of Manchester. Culture is the beating heart and soul of this city and as a Council we are proud to champion this sector."

"This latest offering will allow people to engage with and enjoy culture after months of lockdown where our favourite venues, whether they are galleries, museums, parks or libraries, have been off limits for many. A huge amount of work has gone into helping Manchester recover economically; what we need to see now is the same level of support to see the city recover culturally, a sector which is intrinsic to the city's economic recovery. This is why it is crucial that we engage with projects like 50 Windows of Creativity."

"Now more than ever it is so important that we show support for the arts community, and I hope that when this project is ready people will take the time to explore it and appreciate the incredible talent that Manchester has to offer."
The project is supported by Event Partner Autotrader with other businesses including Hobs Repro, Ocean Outdoor, Jamieson Contracting and TfGM also stepping forward to support the project.
Christos Tsaprounis, Head of People & Culture, Autotrader said
"This is an inspiring event to be part of. As a business in the city we wanted to do all we can to support the city we operate in, local artists and a worthwhile charity. We are delighted to be involved in this innovative initiative".
The project culminates with an auction which will see a selection of pieces auctioned with proceeds going to their artists and makers, and to The Lord Mayor of Manchester Charity Appeal Trust – We Love MCR Charity (registered charity number 1066972) which aims to help improve the lives and life chances of Manchester people.
There are a number of opportunities for businesses to get involved. Businesses wanting more information about supporting the event though sponsorship should contact Julie Gaskell, Head of Partnerships at Wild in Art: julie@wildinart.co.uk
Businesses interesting in providing a window space or having an installation in their premises should contact 50windows@wildinart.co.uk
We would also like to hear from new and established Greater Manchester based artists who have an idea for an installation. Please contact us at 50windows@wildinart.co.uk by 5pm on 9 September 2020.