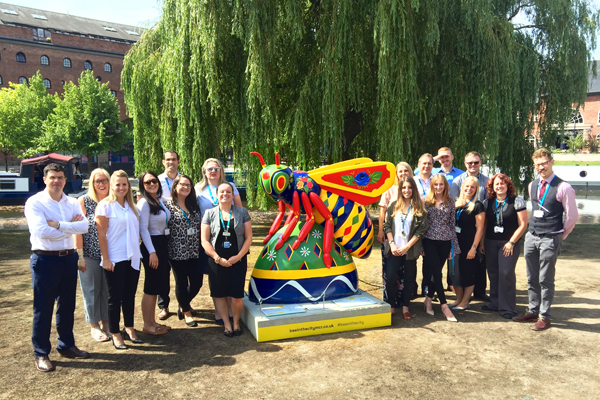 Bee-ing the official health and wellbeing partner of Bee in the City Well Pharmacy wants to encourage people to get active this summer.
Walking is a great way to keep fit and healthy. It is also simple, easy and free.
Here are some summer survival top tips, so you are prepared for a buzzing day!
1. Bee hydrated
Keeping your body hydrated is vital, especially when you are marching around the streets of Manchester. Dehydration is not nice and can cause many problems like nausea, fatigue and potential injuries.
2. Bee comfortable
Footwear is important, as there is nothing worse than a painful blister! Make sure you choose something comfortable to wear with lots of support, so you can focus on getting around the trail and seeing all the beautiful bees. At the first sign of a blister, grab yourself a plaster that is designed specifically for them. This will stop it getting worse or even infected, as they work by acting as an additional layer of skin providing a barrier to protect it and repel water, bacteria and dirt. Don't forget, you can pick up a pack of blister plasters from your local Well Pharmacy.
3. Bee protected
Sunscreen is a must when you are spending time outdoors. It's recommend at least SPF 30 for children and SPF 15 for adults. The higher the SPF number, the better, as it means more protection! Apply generously at least 20 to 30 minutes before heading out to do the trail. Reapplying is important, even if the sunscreen promises all-day protection. Don't forget to take a pit stop every two hours whilst out in the sun, so you can reapply and stay protected. Well Pharmacy have a great range of suncare products, and the friendly pharmacy teams are on hand to make sure you get what is right for you.
4. Bee ready
The summer breeze can bring the sniffles, sneezes and itchy eyes. If you suffer from hayfever, you don't have to let it spoil your day. Antihistamines come in the form of tablets or nasal sprays and work by blocking histamine, which is the chemical that causes many of the allergy symptoms. If you know pollen will give you a hard time whilst you are out and about, you can take these as a preventative treatment or when you first start to develop symptoms. There are many different medications that can prevent or soothe the reactions, so visit your local Well Pharmacy to get some expert advice!
Well Pharmacy is the UK's largest independent pharmacy chain, with 780 stores nationwide and a strong 70-year heritage. Friendly, expert pharmacy teams help local communities throughout the UK with all their health and wellbeing needs. Click here to find your nearest Well Pharmacy!