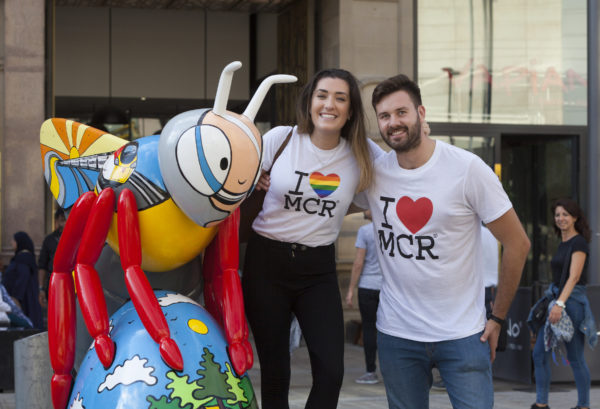 Findings from an independent report into the economic and social impacts of Bee in the City has found that more than 3 million people saw Manchester's art trail of Bees.
The free, family-fun art event which animated the city's streets, parks, and cultural venues this summer was enjoyed by more than 695,000 people actively taking part in finding the Bees. The event had a total economic impact of £33.5 million, contributing £10.2 million of GVA to the local economy.
Bee proud Manchester
Nearly half (48%) visited all or most of the art trail across the city, which was made up of 101 super-sized Bees painted by artists, and 131 little Bees created by local children and young people. Designs celebrated the unique buzz of Manchester, from its industrial heritage to its vibrant music scene.
Nine out of ten people (89%) said that Bee in the City created a sense of community and 99% of Manchester residents said they felt proud to have the art trail in their city.
One trail goer who took part in the survey said about Bee in the City: "It thrilled everyone – old and young and it made me feel proud of Manchester. It was fantastic to see how happy they made people – the best and most engaging public art project I've seen."
Another added: "It made me proud to live here. Seeing lots of families and groups of people on the trail was really lovely, and it created a sense of community. We kept meeting the same people along the trail and everyone was helping each other find the Bees, take photos, giving directions, giving advice on other places to visit in the city etc. It was just great!!"
Health & wellbeing impact
As well as helping to bring people together and encouraging civic pride, the event has also encouraged people to be more active. More than 80% said the event encouraged them to walk more than usual (82%) and get outdoors more (83%). The optional pedometer sponsored by Well Pharmacy on the Bee in the City mobile app tracked more than 24 million steps walked by Bee seekers over the trail.
The 50-mile long route of 232 Bees weaved its way across Manchester city centre and into neighbourhoods, including Blackley, Wythenshawe, Clayton, Levenshulme and Longsight, highlighting landmarks and undiscovered gems. Four out of five people (81%) said Bee in the City took them to places they hadn't been to before and nearly two-thirds (63%) spent 3 or more days exploring the art trail. More than a third of trail goers were groups of family and friends, and 66% of people said that the Bees helped them to spend more time with their family.
One participant said about the event: "We enjoyed following a map and spending time as a family. Having a 9-year-old boy we loved the fact he couldn't wait to go Bee hunting instead of sat in front of a computer screen. It also gave us the chance to visit places we hadn't been to and loved seeing the wonderful designs of the Bees. This was an amazing experience and made us even prouder to be from Manchester."
The buzz about town
Metrolink recorded a 30% increase in family travel card sales across the tram network, while Manchester Cathedral, which displayed a number of little Bees, reported a 46% increase in visitors during August. The Museum of Science and Industry, which was home to a giant Bee over the summer, recorded 9,500 more visitors in August.
Manchester BID recorded that footfall rose across the city centre by 14.3% in August and 13% in September, which equates to an additional 868,557 people across the 9 weeks of the trail.
Users of the Bee in the City mobile app made 1.2 million 'unlocks' discovering the Bees, earning special rewards, retail discounts and exclusive content. Over 8 million interactions were recorded on the app while people used it to follow the trail, plan their visit at home and share the Bee designs and their progress on the trail on social media.
The event was supported by more than 65 Manchester businesses who got behind the initiative by sponsoring Bee sculptures and working hard to ensure the art trail was a success.  Well Pharmacy, the official Health and Wellbeing Partner, and Virgin Trains were Presenting Partners of Bee in the City.
A celebration of creativity
Sally-Ann Wilkinson, Co-founder and Director at Wild in Art, the creative producers of Bee in the City, said:
"The survey results talk a lot about a sense of pride and I hope that everyone involved in the creation of Bee in the City – sponsors, artists, schools and community groups – are as equally as proud of what we have collectively achieved.
"But more than this, for nine weeks this summer, Manchester became a living work of art for absolutely everybody to enjoy. Creativity became the fabric of the city: it brought people together; it showcased the very best of Manchester; it encouraged people to tell stories of themselves, of their city and to re-discover their city. It was a collective experience that celebrated Manchester's character and personality.
"I believe that it was an exemplar of private and public sector working to create extraordinary things. I hope we have proved that by working together we can do great things for our communities."
Sir Richard Leese, Leader of Manchester City Council, said:
"Summer in Manchester this year had a real buzz about it and this was in no small part thanks to Bee in the City.  The art trail and auction were both great successes that brought with them measurable social and economic benefits."
Bee-autiful legacy
After the spectacular summer-long event, many of the giant Bees were auctioned for the Lord Mayor of Manchester's We Love MCR Charity. With Mancunian designs inspired by the city's musical heritage, a Corrie homage, footballing tributes to the city's clubs, artwork by renowned Manchester artists, plus high-profile support from Olympic champions, music A-listers, and Nobel Prize winning scientists, bidders raised more than £1.1 million to buy the sculptures. The net proceeds from the auction are being used by the charity to support its We Love MCR Charity's Stronger Communities fund, which provides grants of up to £2,000 for initiatives that bring communities together to celebrate diversity and build stronger relationships.
The Community and Learning Programme Bees painted by local residents, children and young people were not included in the auction. Nearly a quarter of the big Bees from the art trail were funded by and designed by community groups, and these sculptures have gone back to them to be displayed in their neighbourhoods as a lasting legacy.
All 131 little Bees created by children and young people as part of the Learning Programme have made their way back to the schools and youth groups that designed them.
The auction followed a sell-out Bee in the City Farewell Weekend attended by more than 15,000 people who came to see all big Bees from the art trail gathered together at the HSBC UK Cycling Centre.
The online survey of 952 people was conducted by research agency NGI solutions.