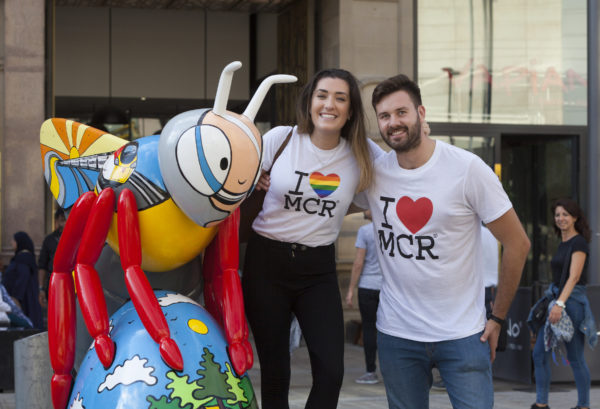 Bee in the City is raising money for the Lord Mayor of Manchester's We Love MCR Charity. We spent 5 minutes with their Development Manager Laura Baynham-Hughes to find out more about the charity's vital work.

Tell us a bit about We Love MCR Charity. Why was it set up?
The Lord Mayor of Manchester's Charity Appeal Trust was established in 1997 to support the people of Manchester and has been doing just that ever since. Known as the We Love MCR Charity, we are focussed on supporting young people and promoting stronger communities, helping to build a better future for Manchester.
Manchester has a proud history of solidarity – of standing up for those who need help. We are a bright, vibrant, successful city – but there are still some people who need a helping hand. 1 in 3 of our young people live in poverty, and 1 in 10 residents have no qualifications.

What will the money raised through Bee in the City allow you to do?
The money raised through Bee in the City will support our We Love MCR Stronger Communities Fund. Community groups across Manchester can apply for funding of up to £2,000 for initiatives that will bring their neighbourhoods together to celebrate diversity and help build stronger relationships in and across those communities.
It will also support our work helping young Mancunians to gain the knowledge, skills and confidence they need to succeed. For many young people the opportunity to increase their self-confidence and broaden their aspirations can have an enormous positive impact on their future.

How can people raise money for We Love MCR Charity?
The Charity wants everyone to come together through Bee in the City to say – We Love Manchester; all of Manchester.  You can help our great city be the best it can be in a number of ways.
Text BUZZ18 £2 to 70070 to make a one-off donation (or an amount of your choice).
Donate online by visiting the Bee in the City campaign page
In a group or on your own see how many Bees you can visit in 4 hours. Set up your own Bee in the City fundraising page and ask your friends, colleagues and family to sponsor you. Don't forget to take a selfie at each Bee as proof!

What have been your favourite moments of Bee in the City?
The charity was delighted to be chosen as the benefiting charity of Bee in the City and we have loved being part of this brilliant project. My favourite moments so far have been seeing people of all ages posing for photos by the Bees outside Central Library as I arrive at work every morning, meeting some of the very enthusiastic school children who have taken part in the Learning Programme and seeing the huge number of colourful photos of the Bees on social media.