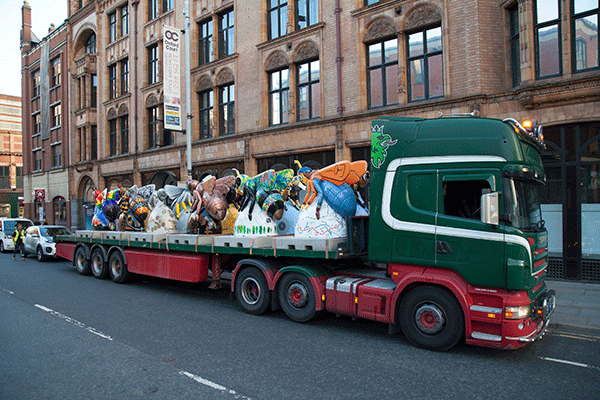 After a buzzing summer the Bee in the City art trail finishes on Sunday, which means all 101 big Bees by artists and community groups will be flying away from their trail locations to get ready for the Farewell Weekend.
Our amazing team will start the huge task of bringing all 101 super-sized Bees back to the hive at the weekend, so a handful will be taken off Manchester's streets early.
On Saturday 22 September three Bees will fly off from 6pm. These are: No. 25 Penny Pendo-bee-no (Exchange Square); No. 27 Manchester – the place to 'Bee' (NCP Manchester Arndale, High Street);  and No. 50 A City Transformed (Great Northern Square).
On Sunday 23 September four Bees will wing their way off the trail from 2.30pm. These are: No. 88 Sneezebee (Medicines Evaluation Unit, Wythenshawe Hospital); No. 89 Overgrown (The Forum, Wythenshawe); No. 96 Collyhurst Comb (Church of the Saviour, Collyhurst); and No. 98 Bee-yond Expectations (North Manchester General Hospital, Crumpsall).
All other big Bees will be on display until 4pm on Sunday 23 September, after which they will start to come off the trail.
All little Bees created as part of the Learning Programme will be on display on Sunday 23 September, but please check venue opening hours before making a special visit. After Sunday, the little Bees will start to be delivered back to the schools and groups that created them, to keep as a lasting legacy.
So don't worry if you haven't seen all the big Bees after Sunday; you can see them all together at the HSBC UK National Cycling Centre on 12-14 October. Just remember to book your tickets in advance to say bye bye to the Bees.
Over the next few weeks we'll be busy making sure the big Bees are looking their best for the Farewell Weekend. After the celebratory event, many will be auctioned to raise valuable funds for the Lord Mayor of Manchester's We Love MCR Charity. Bees created as part of the Community Programme will not be included in the charity auction and will make their way back to their trail locations or nearby. Funded by the communities themselves, or by a variety of grants, this inspiring collection of Bees is a stunning showcase of ideas, topics and issues that are particularly meaningful to the groups involved and their members.
Updated 20/09/18 @ 17:00