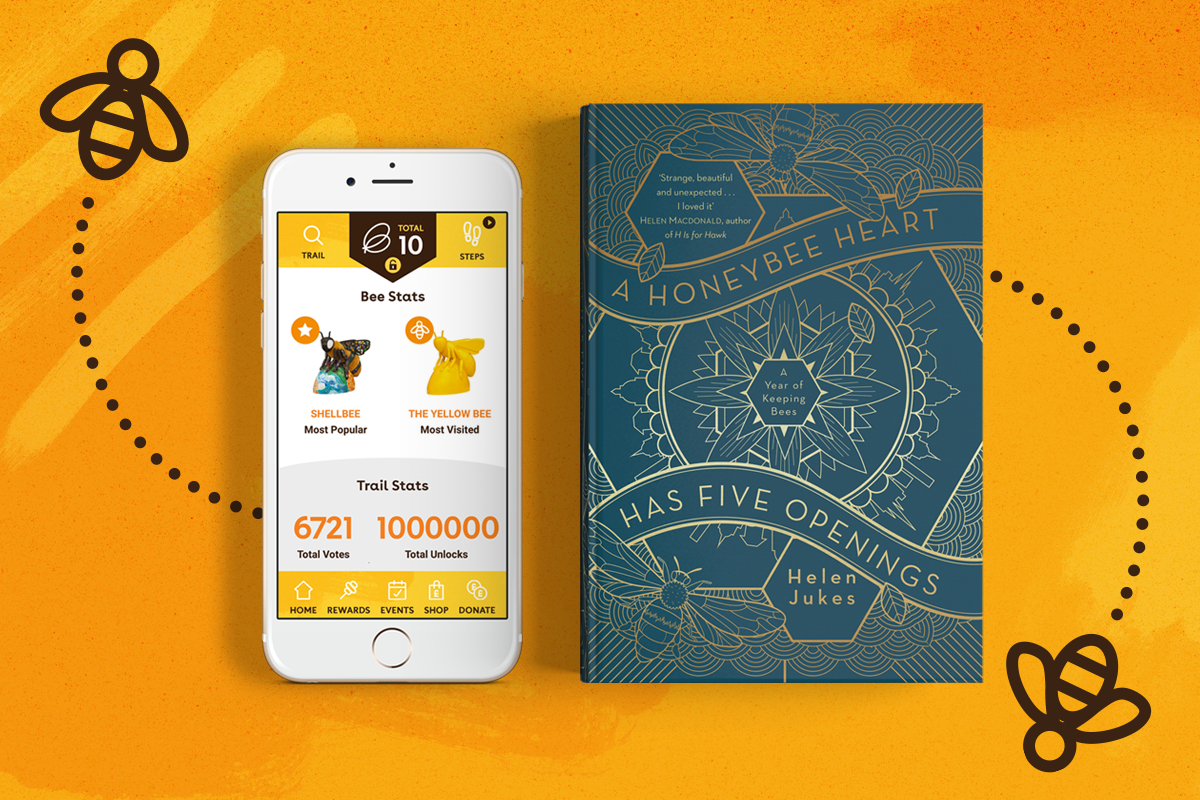 We've teamed up with author Helen Jukes and publisher Simon & Schuster to help say thank you for unlocking the Bees more than 1 million times on the art trail.
A record-breaking 1 million Bee 'unlocks' have been recorded through the Bee in the City app, which helps visitors navigate their way around the art trail, collect Bees, vote for their favourite Bees and earn top rewards.
In recognition of this bee-rilliant milestone and to celebrate the publication of A Honeybee Heart Has Five Openings by Helen Jukes, we've put together a top gift for the 1 millionth Bee discovery.
Congratulations!
Winging its way over to Tracey, Emily and Alexis is a special hardback copy of A Honeybee Heart Has Five Openings, a fascinating, insightful and inspiring account of a novice beekeeper's year of keeping honeybees. Signed by the author herself, the beautiful book is accompanied by a selection of Bee in the City goodies.
Four runners-up who were close to making the extraordinary Bee discovery will also receive a copy of the book. They are: Brynoth in Sale; Madeleine in Warrington; Claire in Wigan; and Alison in Cheadle.
The bee's knees
Bee and book enthusiasts will be excited to know that our partnership with Simon & Schuster continues after the art trail.
Most of the big Bees have an important job to do at the 17 October auction: to raise funds for the Lord Mayor of Manchester's We Love MCR Charity. Successful bidders will take away a special goody bag to help them remember the night they bought a unique piece of art and helped a local charity change lives.
The memento will include a copy of A Honeybee Heart Has Five Openings signed by the author Helen Jukes. It's a captivating exploration of the honeybee and the hive, the practices of honey-gathering and the history of our observation of bees; and a beautifully wrought meditation on responsibility and care, on vulnerability and trust, on forging bonds and breaking new ground. We think it's the perfect gift for those who will be giving the Bee in the City Bees their forever hive.
Bee inspired
Ever thought about becoming a beekeeper? Helen has put together her top 10 tips for beekeeping.