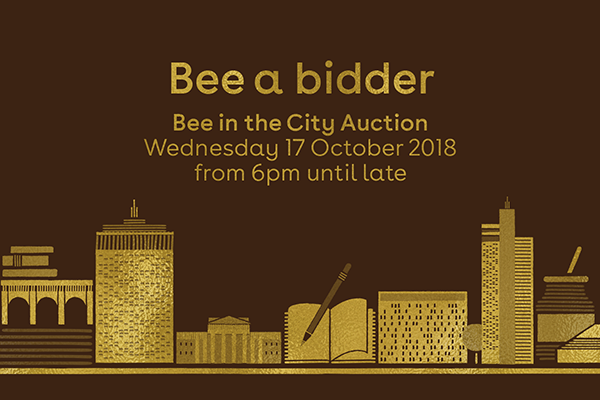 Everything you need to know about the sweetest ticket in town.
The unmissable Bee in the City Charity Auction takes place on Wednesday 17 October, acting as the finale to the spectacular summer-long art trail enjoyed by thousands of residents and visitors to Manchester.
Wednesday 17 October at HSBC UK National Cycling Centre
Tickets: £30
6.15pm till late
Apply for tickets now
Hosted by auctioneer and TV personality, Charles Hanson, 77 individually designed Bees will be under the spotlight to raise valuable funds for the Lord Mayor of Manchester's We Love MCR Charity.
With Mancunian designs inspired by the city's musical heritage, a Corrie homage, footballing tributes to the city's clubs, artwork by renowned Manchester artists, plus high-profile support from Olympic champions, music A-listers, and Nobel Prize winning scientists, auction fever is set to make the city buzz with bidders digging deep to help leave a lasting legacy for the city.
Bidders can apply for auction tickets online and are encouraged to attend the Farewell Weekend exhibition (12-14 October) to see all Bees together and take a closer look at the artwork.
Charles Hanson, auctioneer and antiques expert on TV's Bargain Hunt, The Antiques Road Trip and Flog It!, said: "I've been privileged to see many incredible objects 'go under the hammer' but none more unusual than this stunning collection of Bees designed by established artists and 'ones to watch!' This is a fantastic opportunity to give a Bee a home and own an original piece of art to treasure as part of permanent memento of an unforgettable summer."
The Lord Mayor of Manchester, Councillor June Hitchen, added: "We Love MCR Charity has been supporting young people, promoting stronger communities, and helping to build a better future for Manchester since 1997. We are delighted to have been chosen as the benefiting charity of Bee in the City and have loved being part of this inspiring project.
"Manchester has a proud history of solidarity. We are a vibrant, successful city – but there are still people living here who need a helping hand. The money raised through the auction will support our We Love MCR Stronger Communities grant programme. Wishing you a fun night and the best of luck as you bid for your Bee!"
Seventy-three big Bees and 4 medium-sized Bees will take to the spotlight on Wednesday 17 October. The Community and Learning Programme Bees are not up for auction; they will be winging their way to their forever 'hives' in and around Manchester. An Auction Catalogue detailing all Auction Lots is available to download.
Ticket applications for the auction are expected to be oversubscribed; therefore, details of how to bid online for a Bee will be released closer to the time.