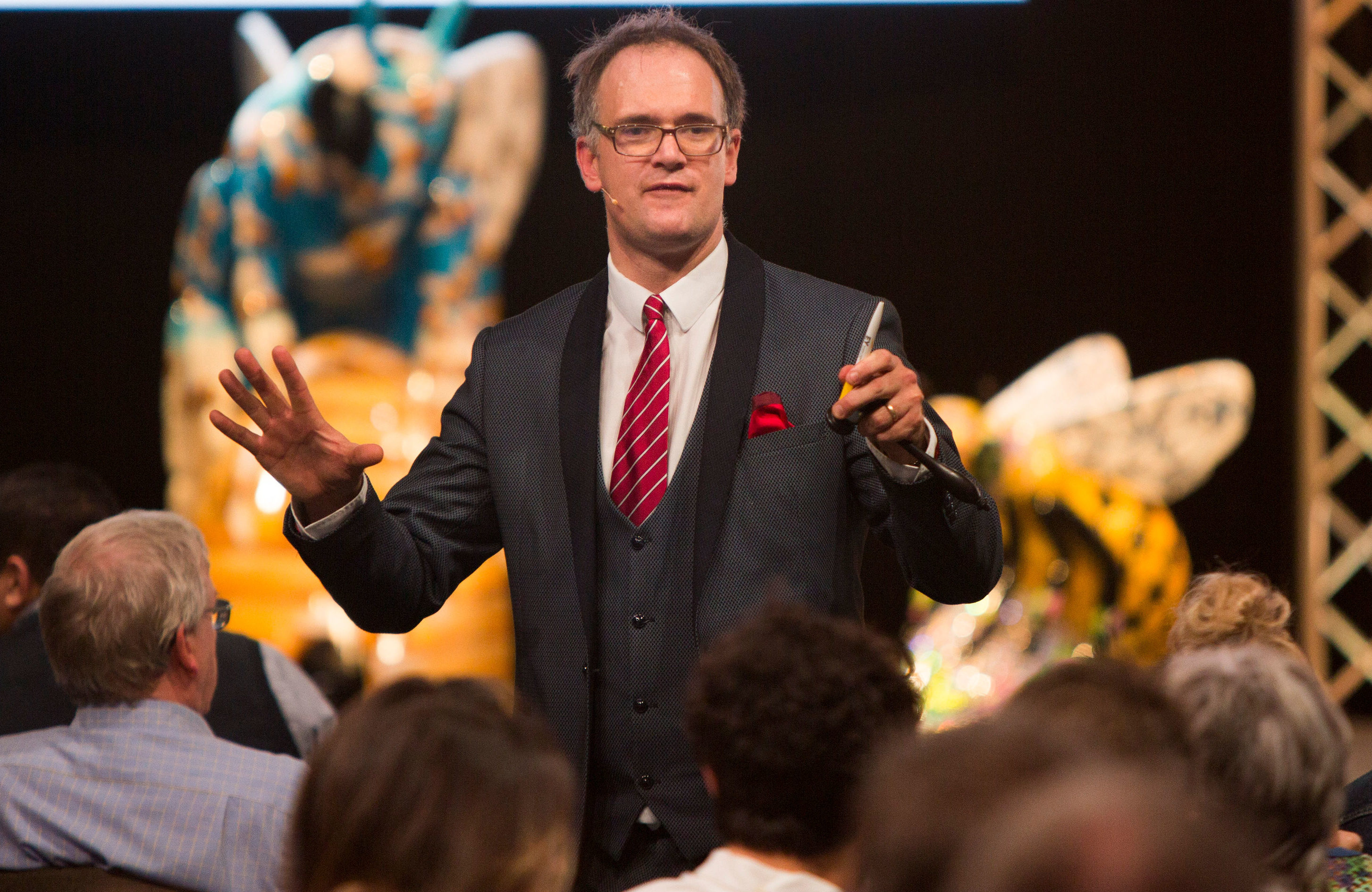 It's what you've all bee-n waiting for! Here are the final hammer prices from the Bee in the City charity auction.
The charity auction took place last night, raising an un-bee-lievable £1,128,250 for The Lord Mayor of Manchester's We Love MCR Charity. Read more about what happened at the auction here.
Proceeds from the auction will support We Love MCR Charity's Stronger Communities fund, which provides grants of up to £2000 for initiatives that bring communities together to celebrate diversity and build stronger relationships.
77 of the Bee in the City sculptures went under the hammer in front of guests digging deep to bid, as well as online and telephone bidders. A surprise 78th lot was added to the end of the auction on the night; a blank Bee to be painted by the winners' choice of a Bee in the City artist.
The Community and Learning Programme Bees painted by local residents, children and young people were not included in the auction. Nearly a quarter of the big Bees from the art trail were funded by and designed by community groups, and these sculptures have gone back to them to be displayed in their neighbourhoods as a lasting legacy. They are joined by the Original Worker Bee, which will remain in Central Library as a permanent exhibition.
| | | |
| --- | --- | --- |
| 1 | City in the Bee | £10,000 |
| 2 | The Sky is Not the Limit | £8,500 |
| 3 | Banks-B | £12,000 |
| 4 | Summer Sundae | £7,500 |
| 5 | Manchester Doodle Bee | £12,500 |
| 6 | Map of the Worker Bees | £9,500 |
| 7 | Rubee | £10,000 |
| 8 | Beejing | £8,000 |
| 9 | Rocket, the Steam (punk) Bee | £10,500 |
| 10 | Crown Jewels | £10,000 |
| 11 | Queen Bee | £7,500 |
| 12 | The Yellow Bee | £9,500 |
| 13 | Wild Manchester | £8,750 |
| 14 | Mo | £9,000 |
| 15 | This is Manchester | £11,500 |
| 16 | ROCK 'N' ROLL | £15,000 |
| 17 | Colourful Manchester Skyline Bee | £10,000 |
| 18 | Bee a Rainbow! | £11,000 |
| 19 | Bee Inspired | £12,000 |
| 20 | Penny Pendo-bee-no | £8,500 |
| 21 | Industrious | £14,000 |
| 22 | 'Manchester Movement' Bee | £8,000 |
| 23 | Bee-vina McCall | £11,500 |
| 24 | A Worker Bee's Work is Never Done | £25,000 |
| 25 | Hilda Bugden | £12,150 |
| 26 | Mr Bee'nn | £11,500 |
| 27 | A City Transformed | £9,750 |
| 28 | The Tears of Ra | £15,000 |
| 29 | Maker Bee | £12,500 |
| 30 | Doing the Waggle Dance | £15,500 |
| 31 | Love | £17,000 |
| 32 | SuperBee | £16,500 |
| 33 | Dazzle Bee | £25,200 |
| 34 | To Bee or not to Bee | £13,500 |
| 35 | Bee Here Now | £16,000 |
| 36 | Manchester's Buzz | £12,500 |
| 37 | BZZX!! | £12,500 |
| 38 | Busy Bee | £11,000 |
| 39 | I Wanna Bee Adored | £17,000 |
| 40 | Gravit-Bee | £10,500 |
| 41 | Workee | £10,000 |
| 42 | My Heart Belongs in this Place | £23,000 |
| 43 | HoneyBoo | £13,000 |
| 44 | Rutherford, Turing and Beyond! | £14,000 |
| 45 | Urban Jungle Bee | £15,500 |
| 46 | Pablo Bee-Casso | £16,000 |
| 47 | Manchester – the Place to 'Bee' | £27,000 |
| 48 | Buzzwig van Bee-thovan | £17,100 |
| 49 | The Drip-bee | £9,800 |
| 50 | Manchester STEM Bee | £22,000 |
| 51 | Bee United | £31,000 |
| 52 | I'd Rather Bee Cycling | £12,000 |
| 53 | Mike Summer-Bee | £25,000 |
| 54 | Distiller-bee | £17,500 |
| 55 | Cottonopolis | £17,000 |
| 56 | Benny the Bee | £10,000 |
| 57 | 80 Years Around the World | £12,000 |
| 58 | Not too Shab-bee | £12,500 |
| 59 | Hac 'BEE' enda | £20,000 |
| 60 | The Honey Dome | £16,000 |
| 61 | Beedazzle | £22,000 |
| 62 | The BeeHolder | £13,000 |
| 63 | Bee Live in MCR | £22,000 |
| 64 | Bling Bee | £20,000 |
| 65 | The Homing Bee | £13,000 |
| 66 | AuBee | £22,000 |
| 67 | The Federation Bee | £13,000 |
| 68 | 'Bee Lieve' in Manchester | £16,000 |
| 69 | Lock Keeper's Bee | £13,500 |
| 70 | USBee | £19,500 |
| 71 | Bee-YOU-ti-ful | £12,300 |
| 72 | Bee-sy Rider | £12,200 |
| 73 | Love is the Honey | £18,000 |
| 74 | Steam-Powered Bee | £15,500 |
| 75 | Bee-bop-a-raver | £19,000 |
| 76 | The Birds and the Bees | £13,500 |
| 77 | Bee Back Soon | £13,500 |
| 78 | Blank Bee and artist commission | £22,000 |