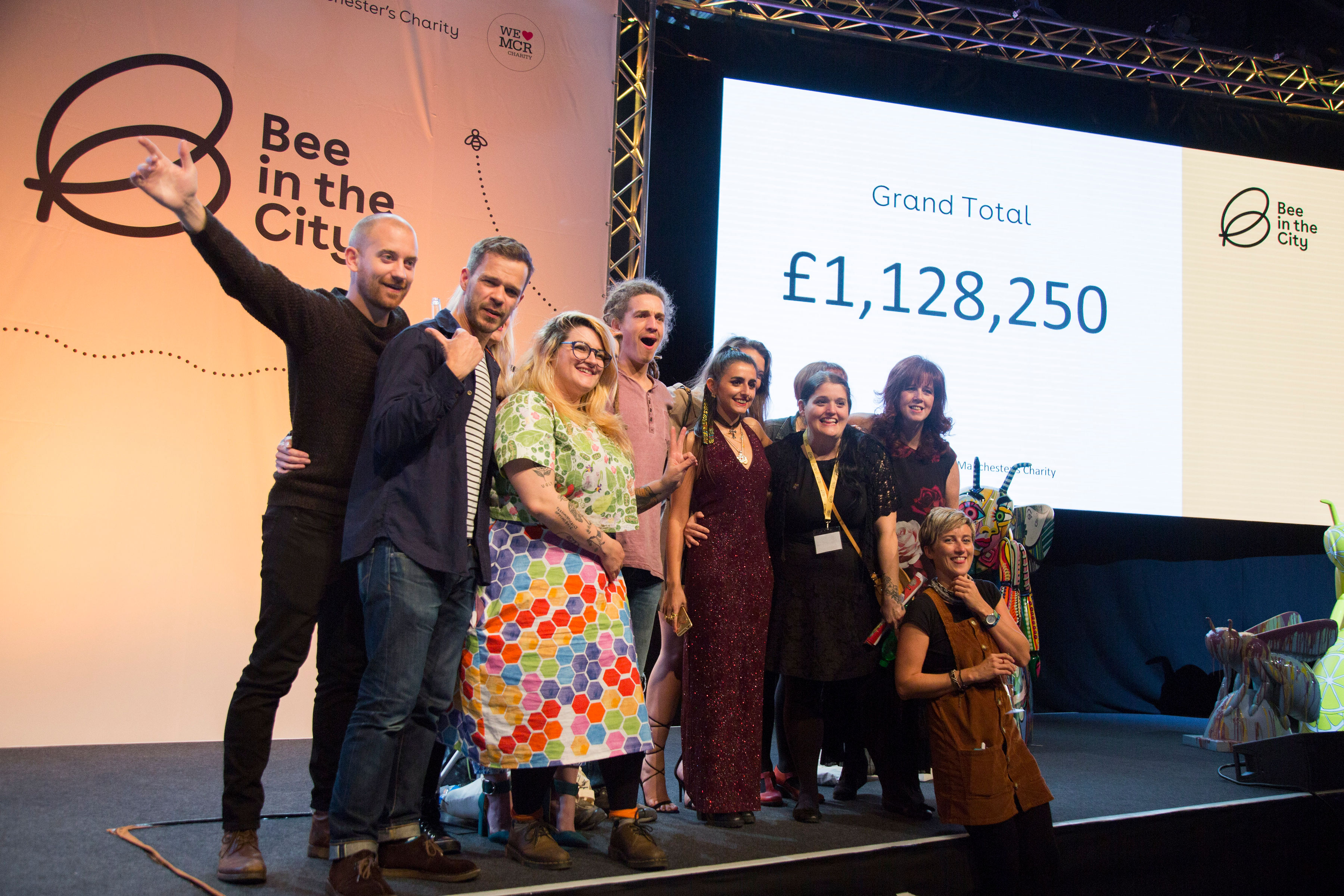 Manchester was all abuzz last night as 77 of the Bee in the City sculptures which featured on this summer's art trail were auctioned to raise £1,128,250.
Net proceeds from the money raised at last night's auction will support We Love MCR Charity's Stronger Communities fund, which provides grants of up to £2000 for initiatives that bring communities together to celebrate diversity and build stronger relationships.
Celebrity auctioneer and TV personality Charles Hanson (Bargain Hunt, Flog It!) and Briony Harford hosted the charity auction, which took place at the HSBC UK National Cycling Centre. The Bees went under the hammer in front of guests digging deep to bid, as well as online and telephone bidders.
The most popular Bee on the night was Bee United painted by Joseph Venning, sponsored by Manchester United Football Club and adorned with Manchester United footballing legends, which raised £31,000 at auction plus an extra £5,000 donated by the club, totalling £36,000 raised. Other highlights included A Worker Bee's Work is Never Done by Laura-Kate Chapman, which raised £25,000, and Dazzle Bee by Liz Faram which also raised £25,200. A surprise 78th lot was added to the end of the auction on the night; a blank Bee to be painted by the winners' choice of a Bee in the City artist, which raised £22,000.
Guests at the auction included Coronation Street stars Dolly-Rose Campbell, Melanie Hill and Charlie de Melo, who were delighted to see the show take home the Hilda Bugden Bee, by Lee O'Brien, raising £12,150.
Andrew Cole, ex-professional footballer and Manchester United ambassador, also made a special appearance alongside sculpture Bee United, which was sponsored on the art trail by Manchester United. Former Manchester City player Mike Summerbee made an appearance alongside his former club's Bee and namesake Mike Summer-Bee.
The Community and Learning Programme Bees painted by local residents, children and young people were not included in the auction. Nearly a quarter of the big Bees from the art trail were funded by and designed by community groups, and these sculptures have gone back to them to be displayed in their neighbourhoods as a lasting legacy. They are joined by the Original Worker Bee, which will remain in Central Library as a permanent exhibition.
All 131 little Bees created by children and young people as part of the Learning Programme have made their way back to the schools and youth groups that designed them.
The charity auction was the finale to the spectacular, free, family-fun art trail which animated Manchester's streets, parks and cultural venues this summer. Thousands of people discovered more than 230 Bees all over Manchester, taking in the city's landmarks and undiscovered gems. Users of the Bee in the City mobile app made more than 1 million 'unlocks' discovering the Bees, earning special rewards, retail discounts and exclusive content. The app's pedometer, sponsored by Well Pharmacy, tracked more than 10,000 miles and 20 million steps walked by Bee seekers over the art trail.
The auction also follows a sell-out Bee in the City Farewell Weekend attended by more than 15,000 people who came to see all big Bees from the art trail gathered together at the Velodrome.